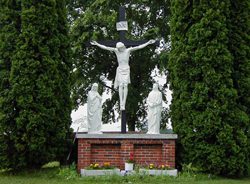 St. Ignatius Cemetery is a constant reminder of our belief in the resurrection. The Cemetery Committee monitors the business and care of the cemetery. Cemetery guidelines and information are available at the parish office and the following link:
Cemetery Guidelines & Lot Prices
If you are interested in purchasing a gravesite or have any questions, please contact the parish office at 419-693-1150.
Funeral Luncheon
We are not having Funeral Lunches at St. Ignatius at this time due to Covid.
This team of parishioners serve meals in our parish hall for deceased parishioner's family and friends after the funeral. Please contact the parish office for more information.
Funeral Lectors
Funeral Lectors are parishioners who proclaim the Scriptures at Mass and other liturgical celebrations. Anyone who is interested in this ministry should contact the parish office.
Resurrection Choir
Resurrection Choir provides support and loving concern for bereaved families and friends by singing at funeral liturgies and Memorial Masses. For more information please contact Janaye Ashman
Funeral Extraordinary Ministers of Holy Communion
These parishioners, after preparation and commissioning, assist in giving the Body and Blood of Christ at the Funeral Mass. For additional information please call the parish office.
Funeral Servers
These parishioners assist the priest at the funeral Mass. Please call the Parish Office for more information.
Cemetery Committee
Members of this committee see to the care and up keep of our Cemetery. For more information please contact our parish office.
Bereavement Committee
Parishioners who aide the family in the loss of a loved one. Please call the parish office for more information.