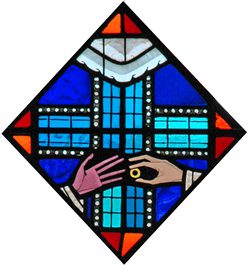 Marriage is a call from God to a life of covenant love so as to form a new family composed of husband, wife, and children. Preparation should begin as soon as a couple makes a decision to marry and at least six months before the anticipated wedding date. Couples must contact the parish office at least six months in advance so that the following can be accomplished:
Scheduling of wedding and rehearsal in the calendars of the church and priest.
Participation of the couple in an Engaged Couple Day.
Schedule three sessions with the priest.
Schedule a meeting with our Parish Director of Liturgy, to plan the music.
All weddings must be celebrated in the church. The latest a wedding may be scheduled on Saturday is 2:00 pm.
Contact the parish office for more information (419) 693-1150.